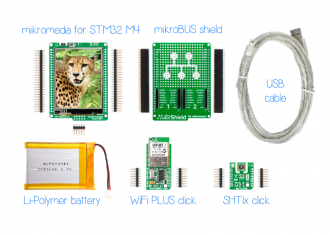 mikromedia WiFi Weather Station Kit
Kit features: mikromedia for STM32 M4, mikroBUS Shield, Li-Polymer Battery,WiFi Plus Click, SHT1X Click and USB cable.
View full image
We're proudly presenting the first Let's Make project from our Intern's lab. This WiFi weather station consists of a mikromedia for STM32-M4, a mikromedia mikroBUS shield, a SHT1x click to measure the temperature, and a WiFi plus click for connectivity.

It's battery powered. The touchscreen displays temperature and relative humidity. It also comes with a dashboard you can access from any browser. The dashboard consists of temperature and humidity readings, along with two graphs, with data readings refreshed every 5 seconds. It's a webpage hosted on the STM32F407VGT6 MCU. When you type in the IP address assigned to WiFi click in your browser, the MCU receives a http request from the router and you get the page displayed. A Google Java script library is used to display the charts, while AJAX is used to send requests to refresh the data readings.

This fine and demanding project was developed by Stefan Krsmanovic, one of our talented and prosperous interns.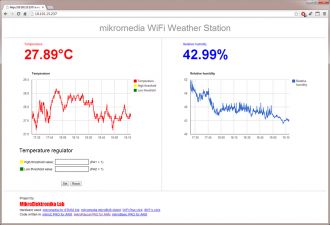 Control center webpage
Webpage hosted on STM32 MCU features information about temperature and humidity, as well as plotted graphs.
View full image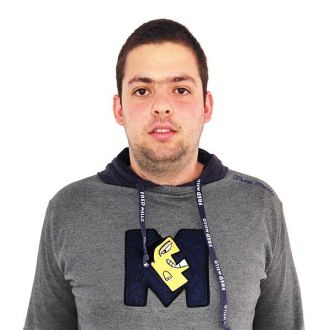 Stefan Krsmanovic, intern.
Stefan Krsmanovic is a student at University of Belgrade Faculty of Electrical Engineering. He is a young associate at Petnica - an incubator for young talented highschoolers.
View full image