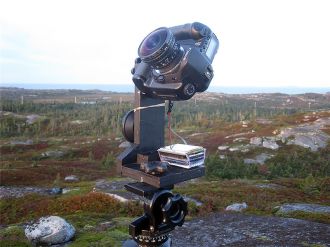 Create a DIY panoramic camera rig
Create a PIC32 controlled camera rig system that will allow you to reliably create high dynamic range panoramic imagery.
View full image
This project creates a DIY panoramic camera rig that is capable of capturing fully spherical high dynamic range panoramas. The project uses a modified Canon DSLR battery grip that is interfaced with a MikroElektronia Mikromedia development board. The firmware has been written in C-code using the mikroC Pro for PIC32 compiler, and VisualTFT.
I've included a few sample images in the "panoramas" folder that were created with this system.
Also, you can explore an immersive 360x180° Google Photosphere view of the panoramic images I've created with the camera rig here: https://plus.google.com/u/0/photos/105694670378845894137/albums/5858680179003344369
The neat thing with this project is you are free to build upon the GPL v3 open source firmware and use it in your own camera control projects. The code currently implements the shutter button, half-press focus button, exposure dial up, and exposure dial down buttons.
This hardware setup can be re-purposed for many other activities like making custom timelapses with precise shutter speed control, capturing highspeed photos with the addition of a strobe light, interfacing with MikroElektronika mikroBus Click sensors like motion or sound detection boards to trigger photos, or creating bullet-time camera rigs, etc... the possibilities are endless.
The Canon DSLR battery grip is modified by soldering 5 jumper wires. The wires connect to the rotary dial controls, and the shutter button mechanism. This body grip connection allows the Mikromedia board to externally control the camera. It is important to note that since the removable battery grip accessory is being modified, your original camera body remains in stock, original condition.
If this is your first time modifying a Canon Camera accessory I recommend you start with an affordable used Canon digital SLR camera like the Canon 10D which can be purchased used on eBay for about $100 USD, and a battery grip can be purchased on eBay for about $50 USD.
Because this project involves taking apart your own battery grip module, and soldering to a flex ribbon cable, a standard liability disclaimer applies to this DIY project. I recommend you take your time, keep your soldering iron tip clean and free of residue build up, and pay attention to your soldering iron's temperature settings!
This project was inspired based upon the following DOC-DIY blog post:
http://www.doc-diy.net/photo/battery_grip/
---
The DIY Panoramic Camera Rig
Here is the materials list I used when I built my HDRI Panoramic camera rig:
Canon 10D DSLR
Canon Battery Grip
Peleng 8mm Fisheye Lens
DIY homemade plywood nodal pan camera mount
Panoramic camera head with degree markings
Standard metal tripod
Mikromedia PIC32 Development board
MikroProg Programmer
mikroC Pro for PIC32
VisualTFT