Heart Rate click carries a MAX30100 integrated pulse oximetry and heartrate. It's an optical sensor that derives its readings from emitting two wavelengths of light from two LEDs, then measuring the absorbance of pulsing blood through a photodetector. The signal is processed by a low noise analog signal processing unit and communicated to the target MCU through the mikroBUS I2C interface.
A programmable INT pin is also available. Uses 3.3V power supply.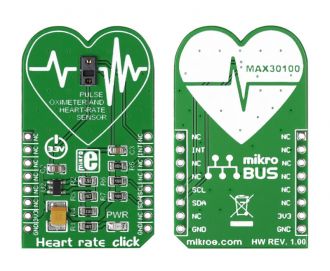 Heart Rate click board
Front and back side appearance of the Heart Rate click board.
View full image
Schematic
Schematic of the Heart Rate
View full image