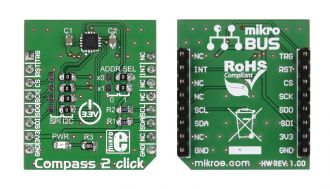 Compass 2 Click Board
Front and Back picture of Compass 2 Click.
View full image
Compass 2 click is a mikroBUS add-on board with an AK8963 3-axis electronic compass. The high sensitivity sensor is based on the Hall effect. The built-in ADC converter can be set up at either 14 or 16 bit resolution, for each of the 3 axes. The sensitivity is 0.6µT/LSB typ. at 14-bit, and 0.15µT/LSB at 16-bit. Compass 2 click communicates with the target MCU through either through the I2C or SPI interface, with an added INT pin. Onboard jumpers enable you to switch between two interfaces. The board is designed to use a 3.3 power supply only. Applications Position detection, navigation and orientation for portable devices. Key features
AK8963 IC
Sensitivity: 0.6µT/LSB typ. at 14-bit, and 0.15µT/LSB at 16-bit
SPI or I2C interface
3.3V
Key benefits
Selectable interface
Configurable ADC resolution
Ready-to-use examples save development time
Supported in all MikroElektronika compilers
Compass 2 Schematic
Schematic for Compass 2 Click Board.
View full image