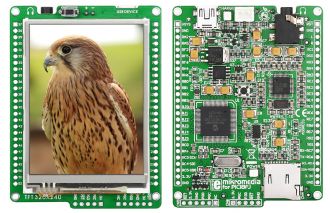 mikromedia for PIC18FJ
Front and back view of mikromedia for PIC18FJ
View full image
These examples demonstrates usage of various external modules connected to microcontroller PIC18F87J50. It uses 8MHz crystal oscillator, and can be multiplied with PLL.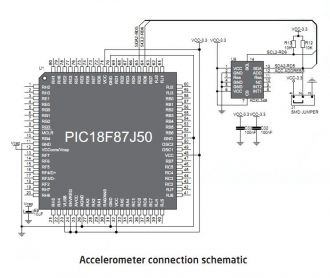 Accelerometer module ADXL345
Communication between microcontroller and accelerometer is performed over I2C Interface.

It's a simple test which demonstrates working with Accel on-board module. Results are displayed on TFT.
View full image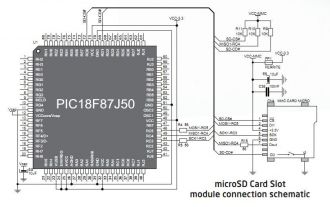 micro Sd card slot
Enables storage of large amount of data externally. For communication with microcontroller SD cards use Serial Peripheral Interface (SPI).

Example demonstrates various aspects of usage of the Mmc FAT16 library
View full image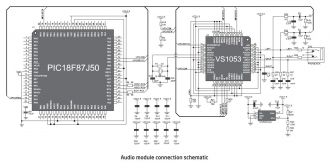 MP3 codec audio controller VS1053
Enables audio reproduction on 3.5mm audio connector. Microcontroller communicates with this module over SPI.

Program reads one mp3 file from MMC and sends it to VS1053E for decoding and playing. MMC and MP3 share Hardware SPI
View full image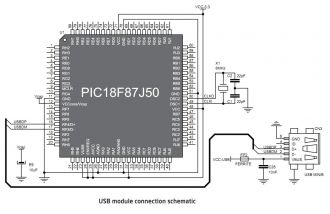 USB module connection
Uses PIC18F87J50 integrated USB module.

Demonstration of USB HID communication. After connecting with computer via USB cable, mikromedia is recognized as USB HID device, and program will echo back any message sent to board.
View full image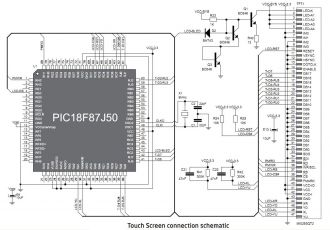 TFT with Touch Panel MIO283QT2
- Displays picture on TFT screen and demonstrates 320x240 color TFT Display.
- Touch Panel Calculator example which shows usage of Touch screen. Program displays classic calculator, reads inputs from Touch Panel and displays result.
View full image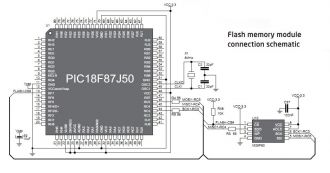 8Mbit Serial Flash memory module M25P80
Connects with PIC18F87J50 via Serial Peripheral Interface (SPI).

Simple test which demonstrates use of on-board Serial Flash. Program writes byte and array of bytes and reads it back.
View full image