Version 1.0.0.0
Initial release. It is fully compatible with MikroElektronika's LCD library and requires exactly the same global variables. Instead of using Lcd_init(), you should use RS0010_Init(). It will initialize the display with WESTERN EUROPEAN CHARACTER FONT TABLE-II which is compatible with MIKROE-159 (Character LCD 4x20 with large digits). Custom characters (5x7 + cursor line) also work.
The library was tested with StartUSB for PIC (PIC18F2550) and Raystar REC002004BYPP5N0 OLED display (4x20 characters).
Version 2.0.0.0
Change log:
The RS0010_Init function was redesigned to allow access to all initialization feature of RS0010 OLED display controller. For example it is possible to select the appropriate font table during initialization. Please refer to the help file for further details.

New function RS0010_PixelTest_5x8 was introduced. The purpose of this function is to test the pixels of the OLED display. It turns on all pixels for all characters. The function is based on custom character, therefore it is font table independent.

The V1.0.0.0 was based on an ancient HiTech C LCD initialization function. In V2.0.0.0 all unnecessary initialization steps were removed.

Datasheets were removed from the library package to make file size smaller

Help file in PDF format was added to the library package

Example project was added to the library package (Raystar RS0010 Demo)
Version 2.1.0.0
Change log:
This version is able to reinitialize the OLED display after soft or hard reset.

Raystar REC002004BYPP5N0_1
Raystar REC002004BYPP5N0_1
View full image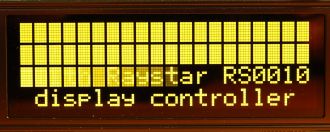 Raystar REC002004BYPP5N0_2
Raystar REC002004BYPP5N0_2
View full image

Raystar REC002004BYPP5N0_3
Raystar REC002004BYPP5N0_3
View full image