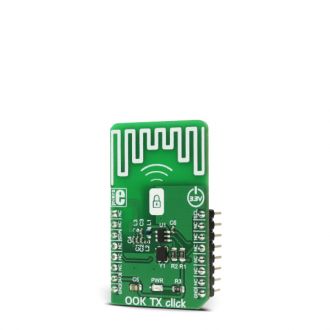 OOK TX click
Native view of the OOK TX Click board.
View full image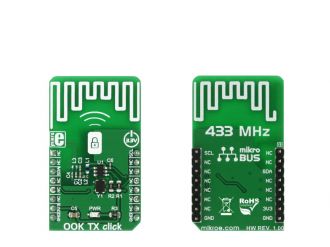 OOK TX click
Front and back view of the OOK TX Click board.
View full image
Library description
This library contains functions required to setup OOK communication.

Key functions
uint8_t ooktx_communicationInit(uint8_t calibration, uint8_t configuration, uint16_t configurationSettings) - Initializes communication with the click
uint8_t ooktx_communicationTransmit(uint8_t transmitData) - Transmits data via OOK
uint8_t ooktx_communicationStop() - Sends a stop condition
The application is composed of three sections :
System Initialization - Initializes output pins.
Application Initialization - Initializes click driver.
Application Task - Code snippet - Sends a data byte that is incremented after every transmission. Data byte is prefixed by preambule bytes and start packet bytes that help the receiver to differentiate received data from glitches.

void applicationTask()
{
    uint8_t i;
    uint8_t j;

    i = 1;
    while(1)
    {
        

//Signals the device to start ook communication


        ooktx_communicationInit(_OOKTX_CALIBRATION_ENABLE, 
        _OOKTX_CONFIGURATION_ENABLE, _OOKTX_CFG_DEFAULT);

        

//Sends a sufficiently long preambule - 8 bytes of "01010101" sequence


        for (j = 0; j < 8; j++)
        {
            ooktx_communicationTransmit(_OOKTX_PREAMBULE);
        }

        

/*




         * Sends 2 "Start packet" bytes - To help the receiver to differentiate




         * actual data packages from signal glitches. These bytes can be any




         * random number, as long as receiver knows what to expect.




         */


        ooktx_communicationTransmit(0xCE);
        ooktx_communicationTransmit(0x35);

        

//Data byte to be transmitted


        ooktx_communicationTransmit(i);

        

//Stops ook communication


        ooktx_communicationStop();
        delay_ms(1000);
        i ++;
    }

}