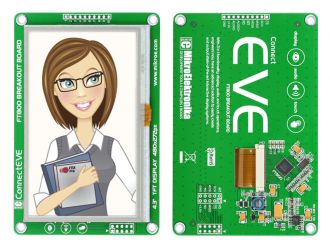 ConnectEVE Board
Front and back side appearance of the ConnectEVE Board.
View full image
ConnectEVE board contains FT800Q graphic controller and 4.3" TFT color display AT043B35 with 480x272 pixel resolution, which is driven by HX8257A display controller, capable of showing advanced graphical content. Each pixel can display 262K different colors. TFT display is covered with a resistive
touch panel which can be used as input device.

Examples are written for :
- EasyPIC Fusion v7 - PIC32MX795F512L
- EasyPIC Fusion v7 - dsPIC33EP512MU810
- EasyMX PRO v7 for STM32 - STM32F107VC


ConnectEVE Board schematics
The schematics of the ConnectEVE board.
View full image