This project shows how you can build simple surveillance system using mikromedia 5 for TIVA and Android smart phone. Config camera server on smart phone:
1) Install on your Android device free IP Webcam application from Google Play.
2) Choose resolution 352x288.
3) Press "Start server" button.
4) On the bottom of the display you can see IP address and port of the server.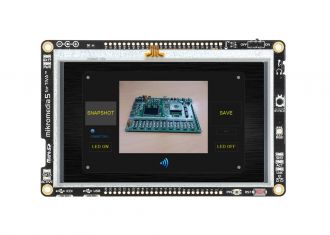 WiFi Camera Example
Graphical User Interface of WiFi Camera Example, running on mikromedia 5 for TIVA.
View full image