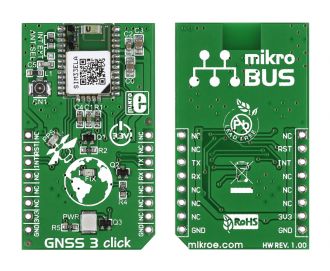 GNSS 3 Click Board
Front and back side appearance of the GNSS3 click Board.
View full image
GNSS3 click carries SIMCom's SIM33ELA standalone GNSS module with an integrated antenna (as well as a connector for an external one).The SIM33ELA module on GNSS3 click features both EPO orbit prediction and Easy self-generated orbit prediction. It also supports AGPS and SBAS ranging (WAAS, EGNOS, GAGAN, MSAS). For cold starts, the SIM33ELA module has TTFF (Time To First Fix) of 28 seconds, 13 if EPO assist is used. TTFF is 26 seconds for warm starts, and less than a second for hot starts. The device has tracking sensitivity of -165 dBm, reacquisition sensitivity of -160 dBm, and cold start sensitivity of -147 dBm.
Examples are written for :
- EasyMx PRO v7 for STM32 - STM32F107VC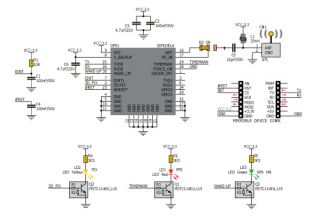 GNSS 3 Click Board Schematics
Schematics of the GNSS 3 click. This board is designed to work on 3.3V only.
View full image