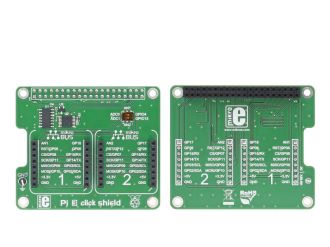 Pi3 Shield
Front and back view of Pi3 shield.
View full image
Package carries examples for :
Accel Click
Measures acceleration on 3 axis and logs data on terminal.
Color Click
Measures light reflection using RGB filters and logs data for each filter on terminal.
8x8 Click
Carries font defintion table and displays provided string using scroll effect.
Signal Relay & Relay Click
Turn of/on relays after one second.
Weather Click
Measures temperature, humidity and pressure and logs data on terminal.
LoRa Click
Sending simple message using LoRa trasciever. This demo uses only TX side of python serial library, RX side is not working properly. For receiving node you can use some program such as minicom.