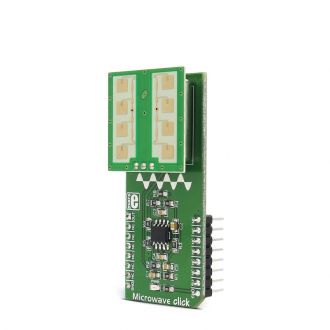 Microwave click
Native view of the Microwave click board.
View full image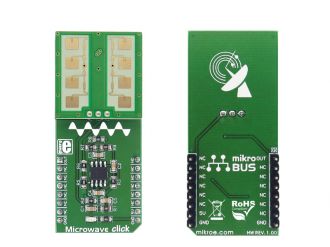 Microwave click
Front and back view of the Microwave click board.
View full image
Examples Description

The application is composed of three sections :
System Initialization - GPIO, UART, and MCU ADC module initialization
Application Initialization - Measurement of initial reference ADC value used for comparison and movement calculation
Application Task - (code snippet) Sequential operation:
Takes exact amount of samples
Calculation of difference between taken samples and reference ADC value
Reports movement if difference is greater than threshold value
The threshold value and number of samples taken per sequence can be easy adjusted by
changing the _SAMPLES_COUNT and _THRESHOLD constants.

Setting the threshold depending on your MCU's ADC module resolution. Too high values for the threshold may result in very insensitive application.

Setting the samples count to values greater than 500 may slow down your application. The optimal value for this kind of application is 100.

Note that this is a simple demonstration - for more accurate movement detection requires real digital signal processing. The board used for this demo must be still during the initialization process (power on). Other mikroE Libraries used in the example:
Additional notes and information
Depending on the development board you are using, you may need USB UART click, USB UART 2 click or RS232 click to connect to your PC, for development systems with no UART to USB interface available on the board. The terminal available in all Mikroelektronika compilers, or any other terminal application of your choice, can be used to read the message.