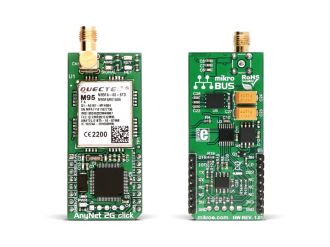 AnyNet 2G click
Front and back view of the AnyNet 2G click.
View full image
Library Description

The library is composed of driver and API layers both available from user space. Lower driver layer carries generic AT command parser, API layer carries simplified user-friendly function calls.
Key functions
api_anynet2g_queryICCID- Provides ICC ID necessary for registration
api_anynet2g_checkStateAWS- Returns current state of the module
api_anynet2g_openTopicAWS- Opens Topic
Examples descriptions
The example shows how to properly initialize module and use API function calls. All information from the module is logged using UART so two UART modules are necessary for the example. In case that your system has only one UART module, Software UART is also usable for data logging.

 

// MODULE INIT


    anynet2g_cmdSingle( "AT" );
    api_anynet2g_firmwareID();
    api_anynet2g_queryICCID();

    api_anynet2g_checkStateAWS( _ANYNET2G_GET );



// OPEN TOPIC 0 AND PUBLISH


    api_anynet2g_openTopicAWS( _ANYNET2G_SET, "0", "MY_TOPIC" );
    api_anynet2g_publishTopicAWS( _ANYNET2G_SET, "0", "MIKROE", "" );

In addition to API calls, example carries additional functions for GPIO pin control provided during the driver initialization.

Keep in mind that AnyNet 2G click currently doesn't support Hardware Flow control so implementation of UART interrupt is a must, also timer interrupt is needed.

Other mikroE Libraries used in the example:
UART
Conversions
C_String
Additional notes and information

Depending on the development board you are using, you may need USB UART click, USB UART 2 clickor RS232 click to connect to your PC, for development systems with no UART to USB interface available on the board. The terminal available in all Mikroelektronika compilers, or any other terminal application of your choice, can be used to read the message.