Example Blog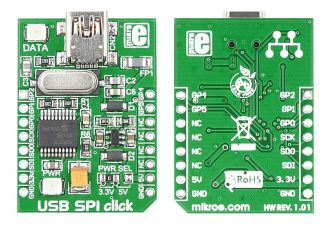 USB SPI click
Front and back side appearance of the USB SPI click Board.
View full image
USB SPI click is a compact and easy solution for adding SPI serial communication via USB cable. It features MCP2210 USB-to-SPI protocol converter with GPIO as well as USB MINI B connector. USB SPI Click communicates with target board via SPI interface as a master device.
PIC examples are written for :
- EasyPIC7 - PIC18F45K22
MCP2210 should be controlled with SPI Terminal application. MCP2210 SPI Terminal and MCP2210 Utility applications can be downloaded from the following links: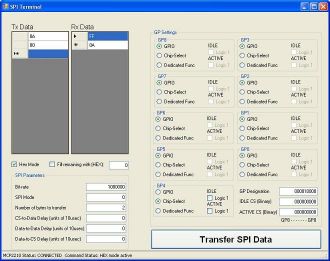 SPI Terminal proper settings
MCP2210 should be configured before use. Proper settings for this example are shown on the image.
View full image
Any of the GP (General Purpose) pins can be used as chip select. User should select appropriate GP pin according to his own connections. GP pins are clearly marked on USB SPI click board and schematics.

Also user can define SPI speed and total number of bytes to transmit. In TX Data and RX Data windows are shown transmitted and received bytes.

Hex mode box should be checked if user want to preview data as hexadecimal.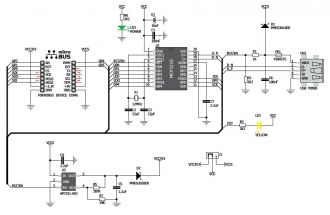 USB SPI click schematics
The schematics of the USB SPI click board.
View full image