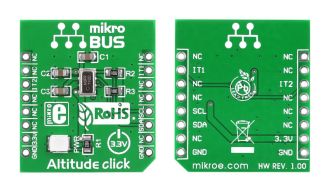 Altitude click
Front and back view of Altitude click board designed in mikroBUS form factor.
View full image
The MPL3115A2 employs a MEMS pressure sensor with an I2C interface to provide accurate Pressure/Altitude and Temperature data. The sensor outputs are digitized by a high resolution 24-bit ADC (Analog Digital Conversion).
Examples are written for :
- EasyPIC7 - PIC18F45K22
Altitude click board schematics
Board is set to use 3.3V power supply by default.
View full image