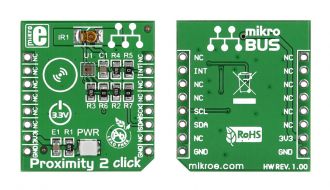 Proximity 2 click board
Front and back side appearance of the Proximity 2 Click Board.
View full image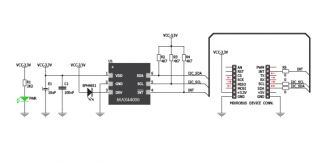 Proximity 2 click board schematics
The schematics of the Proximity 2 click board.
View full image
Library Description
The library initializes and defines the I2C bus driver and drivers that offer a choice for writing and reading
data in and from registers. The library includes a functions for reading interrupt state, main configuration,
receive configuration, transmit configuration, ambient light and proximity registers. It allows to it's user
many diferent setings and set ups in order tu make full usage of its capabilities.
Key functions:
uint16_t proximity2_readAlsDataRegs();

- Function is used to read both ADC High Byte and ADC Low Byte registers.

uint8_t proximity2_readProxDataReg();- Function is used to read prox data register in order to get data on distance from sensor to an object.

void proximity2_defaultConfiguration();

- Function sets up sensor with default configuration.
Examples description
The application is composed of three sections:
System Initialization - Initializes GPIO, I2C and LOG structures, set INT pin as input.

Application Initialization

-

Initalizes I2C driver, sets up default configuration and makes an initial log.

Application Task - (code snippet)This is an example that shows the most important functions that Proximity 2 click has.

void applicationTask() 
{
    proxiVal = proximity2_readProxDataReg();
    ambient = proximity2_readAlsDataRegs();

    if ( ( ( proxiVal - proxiValOld ) > sensitivity ) || ( ( proxiValOld - proxiVal ) > sensitivity ) )
    {
        mikrobus_logWrite( " Distance : ", _LOG_TEXT );
        IntToStr( proxiVal, txt );
        Ltrim( txt );
        mikrobus_logWrite( txt, _LOG_LINE );
        mikrobus_logWrite( " Light :    ", _LOG_TEXT );
        IntToStr( ambient, txt );
        Ltrim( txt );
        mikrobus_logWrite( txt, _LOG_LINE );
        mikrobus_logWrite( "-------------------", _LOG_LINE );
        proxiValOld = proxiVal;
        Delay_ms( 1 );
    }
}  
Other mikroE Libraries used in the example:
Additional notes and informations
Depending on the development board you are using, you may need USB UART click, USB UART 2 click or RS232 click to connect to your PC, for development systems with no UART to USB interface available on the board. The terminal available in all MikroElektronika compilers, or any other terminal application of your choice, can be used to read the message