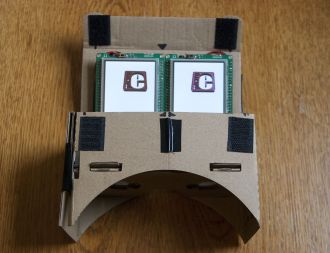 Two Mikromedia Displays in a Google Cardboard
This is a screenshot of the two Mikromedia PIC32 displays mounted in a Google Cardboard head mounted display
View full image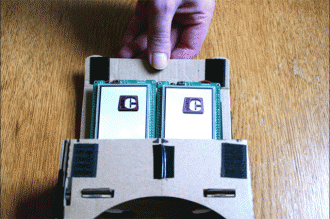 Accelerometer Sensing
The firmware reads the Mikromedia onboard accelerometer and then drives the display of a left or right rendered stereoscopic MikroE logo. As you tip your head up and down the logo will rotate in front of you. Click the View Full image link below to watch
View full image
Installation
Install Firmware on a pair of Mikromedia PIC32 boards: Flash the left display firmware file tilt_left.hex to the left mounted Mikromedia, and the right display firmware file tilt_right.hex to the right mounted Mikromedia.
Copy the tilt_res.RES resource files to the root folder of the MicroSD cards in the Mikromedia dev boards.
Power up both of the Mikromedia boards and place them in the Google Cardboard display so they are aligned next to each other, centered at the left and right eye cardboard divider.
Close up the Google Cardboard and start enjoying the PIC32 MCU powered VR experience. The Mikromedia board's accelerometer measures the forward tilt angle as you tip your head. Try looking down towards your feet and up to the sky to watch the iconic MikroE logo move in stereoscopic 3D.
Hardware Required
Two MikroMMB_for_PIC32_hw_rev_1.10
http://www.mikroe.com/mikromedia/pic32/
Google Cardboard Head Mounted Display
http://www.google.com/get/cardboard/