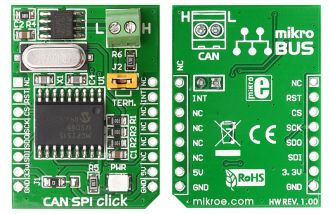 CAN SPI 3.3V click
Front and back view of CAN SPI 3.3V click board designed in mikroBUS form factor. mikroBUS is specially designed pinout standard with SPI, I2C, Analog, UART, Interrupt, PWM, Reset and Power supply pins.
View full image
SN65HVD230 is a CAN transciever circuit which provides CAN serial communication physical layer in accordance with the ISO 11898 standard. It is designed for operation in especially-harsh environments,
providing reliable solution.
Examples are written for:
- EasyPIC v7 - PIC18F45K22
- EasyPIC PRO v7 - PIC18F87K22
- EasyMX PRO v7 for ST - STM32F107VC
- EasyMx PRO v7 for Stellaris(R) - LM3S9B95, LM4F232H5QD
- EasyPIC v7 Fusion - PIC32MX795F512L
- EasyPIC v7 for dsPIC30 - dsPIC30F4013
CAN SPI 3.3V click schematics
Board is designed to use 3.3V power supply only.
View full image