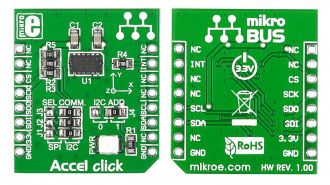 Accel click
Front and back side appearance of the Accel click Board.
View full image
Accel Click is an accessory board in mikroBus™ form factor. It features a ultralow power, 3-axis accelerometer capable of measurement up to ±16 g.

Communication is possible through either a SPI (3- or 4-wire) or I2C digital interface. All communication lines should be driven with 3.3V logic.

Examples are written for :
- EasyPIC7 - PIC18F45K22
- EasyPIC v7 for dsPIC30 - dsPIC30F4013
- EasyMx PRO v7 for Stellaris(R) - LM3S9B95, LM4F232H5QD
- EasyMx PRO v7 for STM32 - STM32F107VC

Accel board schematics
The schematics of the Accel click Board.
View full image