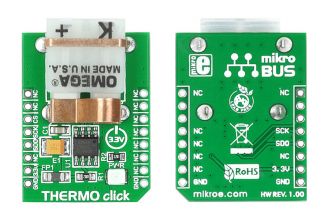 THERMO click
Front and back view of THERMO click board designed in mikroBUS form factor. mikroBUS is specially designed pinout standard with SPI, I2C, Analog, UART, Interrupt, PWM, Reset and Power supply pins.
View full image
THERMO Click is an accessory board in mikroBUS form factor. It's a compact
solution for adding thermocouple to your device. It features MAX31855K thermocouple-to-digital converter as well as PCC-SMP connector for K-type thermocouple probes. THERMO Click communicates with the target board via SPI interface (Read-only).

Examples are written for:
- EasyPIC v7 - PIC18F45K22
- EasyPIC v7 for dsPIC30 - dsPIC30F4013
- EasyMx PRO v7 for Stellaris(R) - LM3S9B95, LM4F232H5QD
- EasyMx PRO v7 for STM32 - STM32F107VC

THERMO click board schematics
Board is set to use 3.3V power supply by default.
View full image