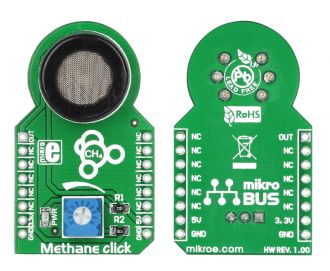 Methane click board
Front and back side appearance of the Methane click Board.
View full image
Methane click carries an MQ-4 sensor for methane (CH4). The gas sensing layer on the sensor unit is made of tin dioxide (SnO2), which has lower conductivity in clean air. The conductivity increases as the levels of methane rise. The detection range of the sensor is 200-10000ppm of methane. To calibrate the sensor for the environment you'll be using it in, Methane click has a small potentiometer that allows you to adjust the load resistance of the sensor circuit. For precise calibration the sensor needs to preheat (once powered up, it takes 24h to reach the right temperature). Methane click communicates with the target board through AN (OUT) mikroBUS™ line. It's designed to use a 5V power supply only.
Examples are written for :
- EasyPIC7 - PIC18F45K22
Methane click Board schematics
The schematics of the Methane click board.
View full image