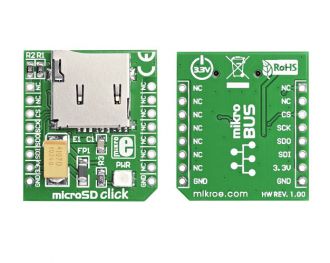 microSd click
Front and back view of microSD click board designed in mikroBUS form factor. mikroBUS is specially designed pinout standard with SPI, I2C, Analog, UART, Interrupt, PWM, Reset and Power supply pins.
View full image
It features a microSD card slot for microSD cards used as a mass storage media for portable devices. Industry standard SPI interface ensures simple communication at high data rates. Use it for reading or storing data like music, text files, videos and more.Examples are written for :
- EasyPIC7 - PIC18F45K22
- EasyPIC PRO v7 - PIC18F87K22
- EasyPIC v7 for dsPIC30 - dsPIC30F4013
- EasyMx PRO v7 for Stellaris(R) - LM3S9B95, LM4F232H5QD
- EasyMX PRO v7 for STM32 - STM32F107VC
- EasyAVR v7 - ATmega32
- EasyPIC Fusion v7 - PIC32MX795F512L
- EasyAVR v7 - ATmega32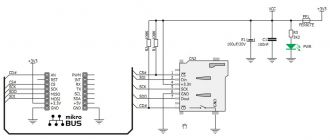 microSD click board schematics
Board is designed to use 3.3V power supply only. On board ferrite voltage supply filter ensures stable operation.
View full image