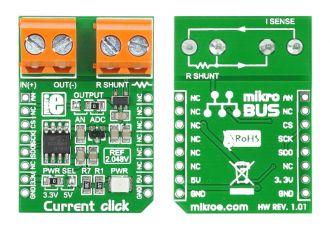 Current click board
Front and back side appearance of the Current click Board.
View full image
Current click is s a compact and easy solution for adding current measurement in your design. It features INA196 current shunt monitor, MCP3201 12-bit ADC, MAX6106 voltage reference as well as two screw terminals. Current Click communicates with target board microcontroller via mikroBUS SPI (SDO, SCK, CS) and AN lines.
Examples are written for:
- EasyPIC7 - PIC18F45K22
- EasyPIC Fusion v7 - PIC32MX795F512L
- EasyMX PRO v7 for ST - STM32F107VC
- EasyAVR v7 - ATMEGA32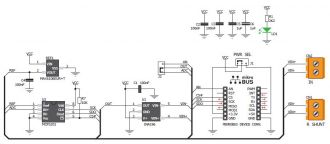 Current click schematics
Schematics of the Current click board.
View full image