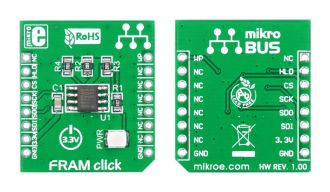 FRAM click board
Front and back side appearance of the FRAM click Board.
View full image
FRAM click is a compact and easy solution for adding Ferroelectric Random Access Memory to your design. It features MB85RS256A 256K Ferroelectric Random Access Memory. FRAM click communicates with the target board microcontroller via mikroBUS SPI (MISO, MOSI, SCK, CS), RST and PWM lines.
The board is designed to use 3.3V power supply only.

Examples are written for :
- EasyPIC7 - PIC18F45K22
- EasyMx PRO for STM32 - STM32F107VC

FRAM click schematics
The schematics of the FRAM click board .
View full image